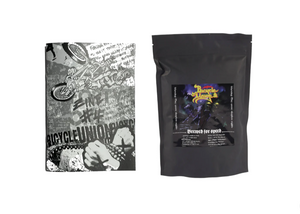 Zine 4 Coffee pack
Regular price
£12.99
£0.00
Nothing quite like a good cup of coffee whilst reading your favourite BMX mag and Bicycle Union have you covered for both with this Coffee/Zine Bundle.
Union Zine Issue 4
More jibber jabber and over analysis in 52 pages than you could shake a fist at. The ever active Bicycle Union bods bring you zine number 4 some more print emotion in their continued efforts at liberating the stale and safe voice of BMX print media. Call outs stupidity and pointless time wasting wisdom or stupidity depending where you are standing?
You may cry you may laugh but its better to feel some emotion than none at all eh? This issue brings you topics of the past, trumpet blowing, internet genius's and words about X'ing it to the edge with Chris Stauffer, Thomas Robbo Robinson, Scott Malyon and KC badger.
Bicycle Union Speed Roast Coffee
Every bag sold goes back in to helping supprt the Union Tape podcast to bring you new episodes with more riders!

Some say:
Will help you pedal faster.
May increase words per minute.
Assists mental rebellion
Guaranteed to speed up your solos
Tastes like lifes nectar
Encourages free thought

Tasting Notes: Vanilla & Brown Spices with a Refreshing Citrus Fruit Aftertaste
---
More from this collection